Internal Investigations Training Programs
How To Conduct A Workplace Investigation
What Is A Workplace Investigation?
In general terms, a workplace investigation refers to the process a workplace undertakes to research an uncertain situation between employees within the workplace or between an employee and the workplace itself. A workplace investigation essentially consists of the organization's HR department gathering information about the situation in question to determine steps to address the situation and return to a normal working environment.
One of the primary objectives of a workplace investigation is to determine whether a workplace incident warrants action against an employee or even the organization.
If an employee files a complaint with the organization's HR department, it's the HR department's responsibility to determine whether an investigation is warranted. Failure to conduct a proper workplace investigation may result in legal penalties for the organization. Thus, it's always best to err on the side of caution when handling complaints.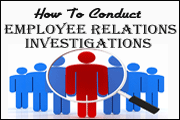 Why Would You Need To Conduct A Workplace Investigation?
What warrants a workplace investigation? Knowing when and how to conduct a workplace investigation is crucial for any business owner or manager. Following proper protocol for workplace harassment and other forms of misconduct can prevent serious penalties for an organization.
Here are some of the most common scenarios that would initiate a workplace investigation:
Workplace harassment, including sexual harassment, verbal abuse, and other forms of threatening behavior of an employee towards another employee
Incidents of employee theft or vandalism
Workplace violence against anyone within the organization
Workplace safety violations
Workplace discrimination, especially discrimination based on race, gender, disability, age or marital status
Other applicable scenarios
Most organizations that have an HR department or another internal resource for conducting workplace investigations assume the responsibility of performing all required steps in a workplace investigation that satisfies state and federal law.
For employees, workplace investigations can re-establish trust. If an employee has been harassed or otherwise wronged by a fellow employee or another person or group within an organization, promptly beginning a warranted investigation demonstrates intolerance for misconduct as well as care for employee well-being.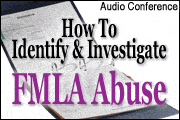 For employers, staying on top of proper workplace investigation processes and ensuring proper investigations occur when appropriate manages the organization's liability in employee incidents and protects the organization against legal action. Moreover, conducting appropriate workplace investigations swiftly, thoroughly and systematically postures the organization as a trustworthy entity that is intolerant of any type of misconduct.
How To Conduct A Workplace Investigation: The Proper Workplace Investigation Process
HR managers will tell you that one of their hardest, most time-consuming processes is conducting internal, workplace, or HR investigations from allegations of harassment and inappropriate workplace behavior.
From interviewing witnesses to gathering information, workplace investigations are nearly impossible to do without the proper legal understanding, internal policies, and experience. That is why internal investigations training is a vital part of the HR manager's tool belt.
After all, is the time to learn how to do an internal investigation when you are suddenly faced with having to do one? Of course not. That's where our workplace investigations training can help!
With high-quality workplace investigation training, you should be able to perform the following duties involved in the workplace complaint investigation process:
Apply laws regarding workplace harassment, violence, discrimination, safety violations, and more
Utilize proper fact-finding methods
Assess the credibility of parties involved in a complaint filing
Define the scope of a workplace incident
Prepare questions for interviews
Understand when to involve a mediator and who can be a mediator
Know what to do with complaints and reports
Be able to accomplish any other essential components of HR workplace investigations
Option For Your HR, Workplace, And Internal Investigations Training
Option 1: Choose a "Recommended Course" from the list below
Option 2: Select "Investigations" from the "Professional Development" section of the search box below
Option 3: Bring Our HR Investigations Course To Your Location
Have a large staff that needs training? What to save money on travel costs? Have us come to you! We can come to your location to train your team! For specifics on having us train your staff at your location, either click the link above or call us at 770-410-1219.
Top FAQs
What is an Internal Investigation?
An "internal" or "workplace" investigation is a formal inquiry regarding allegations of wrongdoing to determine whether laws or corporate policies have been violated.
What typically is involved with an Internal Investigation?

Employers must know the legal obligations that require them to conduct internal investigations, how to gather documentary and physical evidence, how to effectively handle witness interviews, and how to apply discipliary action or termination.
What are some laws the require an Internal Investigation?

Common law, retaliation, Assault & Battery, Defamation, Privacy, and more.
What are the first steps in conducting a workplace investigation?

Respond promptly and responsibly, assess, plan, investigate, evaluate, conclude.
What are the risks involved with an Internal Investigation?

Several, including hostile or violent employees, retaliation lawsuits, state or federal repurcussions from broken laws, and affects on your workforce.
What are the pitfalls of a workplace investigation?

Probably the largest pitfall is the reaction of your employees, especially if the investigation is handled poorly. For instance, the company does not investigate theft allegations, tells the accused details from an accuser's accusations, and loss of profits and reputation.
Find Seminars, Webinars, And Online Training In Your Area
What Is Internal Investigation Training?
HR investigations often cover fraud and theft, but more often than not, HR investigations frequently have turned to a workplace investigation on bullying, harassment, and compliance with, or abuse of, laws such as the FMLA. As you can imagine, making a mistake on any of the types of HR or workplace investigations can cause serious penalties.
Training and certification in conducting internal investigations covers both the legalities of the process as well as best practices for protecting both the accuser and the accused. It also gives HR managers confidence to address allegations of misconduct, harassment, theft, and fraud, and to conduct employee investigations without fear of reprisal or legal exposure for conducting the workplace investigation.
Some of the key items and questions you'll need to know include: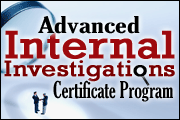 What are your first steps after receiving an employee complaint?
The legal obligations that require employers to conduct internal or workplace investigations
How to gather documentary and physical evidence prior to witness interviewing
How to establish a chain of custody and a confidential retention process
What are best-practices for getting accurate information about the allegation?
How to prepare questions for witness interviews and select appropriate interviewing locations
How can an investigative strategy limit your liability - without disrupting your workforce?
Why Is A Workplace Internal Investigation Training And The Proper Workplace Investigation Process Important?
In order to complete thorough and legal employee investigations, HR investigations professionals must be well-versed in the legal requirements and responsibilities surrounding workplace harassment or other types of workplace investigations, such as how to handle employee grievances, employee theft investigations, and employee relations investigations.
Specifically, you must know your legal obligations to conduct workplace investigations. For instance, what you must do when an employee lodges a complaint. What's more, to do and effective workplace internal investigation, you'll need to gather and document evidence in a way that is within the confines of the legal system.
Once you have evidence of wrongdoing, you have to know how to handle the information, when to contact authorities, and how to maintain confidentiality until the investigation is closed. In some cases, you'll need to know when to bring in the police. On top of this, you must know how to protect your employees while enforcing existing workplace harassment policies.
Proper training on these and other legal aspects of workplace investigations can shield your company from negligence or wrongful termination lawsuits. More importantly, it can shield you from lawsuit exposure while conducting internal investigations.
Instead of worrying about gathering information in an inappropriate or illegal manner, internal investigation training and certification can help you protect yourself and your organization from liability.
Types Of HR And Internal Investigations Training Programs
One of the biggest challenges to HR Investigations training is finding the right course to take that will give you the tools you need to conduct an effective internal investigation.
To help, HRTrainingCenter.com offers several internal investigations training programs, including in-person seminars on Internal Investigations Certificate Program that are held in cities across the country, online courses, and several internal investigations training webinars on investigating specific items such as FMLA abuse.
Advantages Of Opting For Workplace Investigation Training Programs
Even if you have an HR department, you may not have the knowledge and resources you need to conduct an effective workplace investigation. HR professionals undergo intensive training and are forced to juggle a plethora of tasks on a daily basis - and the last thing in their minds is remembering every detail of company-provided workplace investigation training they received long ago. That's why implementing certified workplace investigation training is critical for your organization.
Outsourcing in-person or online workplace investigation training not only refreshes your HR department's memory of proper procedures, but it keeps your organization prepared for unforeseen incidents and keeps stakeholders current with workplace laws in their region. In fact, workplace investigation training programs have helped organizations prevent employee harassment and discrimination incidents from becoming a pattern all over the country.
When you choose HR Training Center for courses on conducting workplace investigations, you receive the help of experienced professionals with workplace investigation expertise few attain in our industry. Major benefits of letting workplace investigation specialists provide your organization with training include:
Access to expert knowledge of all workplace laws governing your organization's operations, which include labor laws, FMLA regulations and civil rights laws
Comprehensive training on different scenarios you may encounter that warrant a workplace investigation
Empowerment to handle various types of workplace misconduct, safety violations and other incidents that could be covered in a workplace investigation
Gaining the knowledge needed to properly and systematically handle every step of the HR workplace investigation process
When it comes to maintaining a safe workplace in accordance with the law, you need a workplace training resource that's experienced and dependable. Be prepared to handle any workplace situation on a moment's notice with our workplace investigation training program.
Why Choose HR Training Center For Effective Workplace Investigation Training?
At HR Training Center, we have the tools and resources to provide comprehensive training for HR departments to learn proper workplace investigation practices and execute them in a confident, professional and empathetic manner. We've been in business since 1994 and have helped countless organizations equip themselves for a myriad of workplace situations on how to conduct an investigation.
Benefits of choosing us for your workplace investigation training include:
Training across many industries
Knowledgeable, certified instructors
Flexible workplace training course scheduling
Access to workplace investigation specialists with specific knowledge of your industry and state workplace laws
Trainings designed to help certain professionals gain or keep licenses and certifications
HR Training Center can help your workplace stay prepared for sudden workplace incidents that could lead to necessary workplace investigations. While such instances are uncommon, they will likely surface at some point with your organization.
Employees entrust managers and owners to maintain a safe, harassment-free workplace and deserve to work in an environment without fear of abuse or discrimination. To keep you prepared, we offer a variety of in-person training courses and seminars tailored to your HR department's specific needs. Feel free to contact us with any questions.